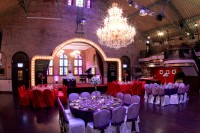 Restaurant Name:
ClubONE · Western Market · The Grand Stage
Address:
2/F, Western Market, 323 Des Voeux Road Central,
Sheung Wan, Hong Kong
District:
Central & Western
The Grand Stage‧Western Market is situated at the century old Grade One heritage building, Western Market, built in Edwardian Style with Gothic interior architecture. The legendary restaurant harmonizes tantalizing flavors of Chinese cuisine with ballroom dancing in a monumental building. The restaurant with a 50-foot high ceiling renders a two level festive hall with balcony seating overlooking the 2,000 square foot dancing floor shimmering. With an emphasis on dim sum, The Grand Stage‧Western Market represents contemporary Cantonese cuisine at it best. Using only the freshest local ingredients, a team of regionally renowned, innovative chefs creates a dining experience that delights and surprises.

Fried Scrambled Egg White with Crab Meat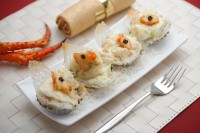 Prawns Puff with Tomato