Restaurant Name:
Cheers Restaurant (Windsor House)
Address:
5/F, Windsor House, 311 Glouscester Road,
Causeway Bay, Hong Kong
Cheers Restaurant is our first Chinese restaurant in Hong Kong with the theme of wedding banquet. This special tradition, together with its fashionable image, helps to prolong the Chinese wedding banquet culture. To promote healthy dining, Tao Heung Group has created 5 "Eat Smart Dishes" for you to choose from.


Chicken Fillet with Vegetables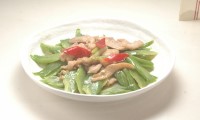 Minced Meat with Bean Curd